The Marshall Brothers and Herbert Clark
The tradition of hiking all forty-six Adirondack mountains over 4,000 feet began in the summer of 1916, when sixteen year old Bob Marshal and his thirteen year old brother, George, summited Ampersand Mountain, their first Adirondack mountain (Terrie 139). Though not a high peak, Ampersand began the Marshall brothers' love of Adirondack hiking and encouraged them to seek out more difficult climbing adventures (Terrie 140). When they weren't hiking, the brothers spent most of their time pouring over the most up-to-date topographical maps of the early 1900s, identifying all Adirondack peaks standing at least 4,000 feet tall in the process (Terrie 140). Bob, George, and their guide Herbert Clark began their adventure to climb all of the 4,000 foot peaks on August 1, 1918 with an ascent of Whiteface Mountain and finished on June 10, 1925 with Emmons (adk46er.org). Their quest began a long tradition of Adirondack hiking and peakbagging that continues today.
The Marshall Brothers
Bob and George Marshall were the two youngest sons of a prominent and wealthy lawyer from New York City (Heaven 16). Their father, Louis Marshall, was a German immigrant whose work as a constitutional lawyer and conservationist helped pass Article VII (the "Forever Wild" amendment) to the New York State Constitution in 1885, effectively establishing the Adirondack Park. Though the family resided in a brownstone in New York for most of the year, they spent their summers in their home on Lower Saranac Lake (ADK 46ers, Heaven 20) in a camp compound known as Knollwood (Wilderness Advocate).
Bob Marshall was known for his hyperactive and obsessive personality (Heaven 17). He loved to keep detailed records and make lists of everything, from the wildlife he saw on his hikes, to the prettiest ponds and mountains (Heaven 17). Bob's hyperactive personality and his penchant for long day hikes, which were often 30-40 mile long off-trail adventures, encouraged his love of peakbagging (an activity in which one attempts to climb as many peaks as possible in a specific timeframe). Though he was a prolific peakbagger, Bob always said that his main motivation to hike was the pure fun he derived from physical activity and the experience of nature (Heaven).
His passion for nature and forestry encouraged him to pursue a formal education in forestry. Bob received a bachelor's degree from the New York State College of Forestry at Syracuse University in 1924, a Masters of Forestry from Harvard Forest in 1925, and a Ph.D. in plant physiology from Johns Hopkins in 1930 for his work in the Brooks Range of Alaska (US Forest Service). He worked for the United States Forest Service and the Bureau of Indian Affairs, pushing for increased wilderness preservation with both agencies. Later, Marshall worked with several friends to create The Wilderness Society, one of the United States foremost advocates for preservation (Wilderness Advocate).
Bob Marshall's life ended unexpectedly early due to a heart attack on November 10, 1939. While on a train to New York City to visit family, he died overnight in his sleeper car. Marshall left all but $10,000 of his $1.5 million fortune to his three favorite causes: civil freedoms, socialism, and wilderness preservation. The other $10,000 went to his friend and Adirondack guide, Herbert Clark. In 1940, the United States government designated the Bob Marshall Wilderness in his honor, in the hopes that his legacy would continue to promote hiking and conservation in a wilderness for all to enjoy (Wilderness Advocate).
George Marshall
As a child, George Marshall spent his summers on Lower Saranac Lake with his family, cultivating a love of the outdoors and a desire to advocate for the preservation of wilderness through volunteerism (Heaven 19). He attended Columbia College where he received his B.A. in 1926 and his M.A. in 1927, after which we received a Ph.D. in economics in 1930 from the Brookings Institution in Washington, D.C. (Heaven 19). In 1931, George contracted tuberculosis, and subsequently spent the next few years in recovery.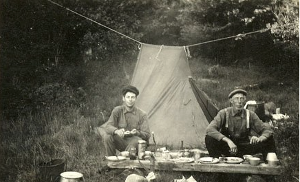 After, he worked in defense of civil rights, following in his father's footsteps. He soon turned his attention to wilderness conservation as a member of the board of directors for The Wilderness Society (Heaven 20). George was a charter member of the Adirondack Mountain Club, and after moving to California, became an active member in the Sierra Club as a member of the board of directors, as secretary, and as president. George died in 2000, at the age of 96.
Herbert Clark
Herbert Clark was born on July 10, 1870 in Keeseville, NY as the 9th of 11 children to Elizabeth Marion Spence and John Clark. The family's farm in Keeseville prospered until the civil war, after which health issues limited their ability to work. The Clark family sold their farm and moved to a plot of land near the town of Chesterfield in 1873. To support the family, the children did chores on their small farm before going to school, in addition to working odd jobs whenever possible to make ends meet. Herbert was a champion oarsman and was very active as a child. In 1903, Herb married Mary Jane Dowdle, and they moved to Saranac Lake, where they raised six children. The Marshall family hired Herbert Clark in 1906 to be their guide in the summers when they were at Knollwood. Herbert Clark passed away in 1945 at the age of 74 (Heaven 21-22).
Work Cited
Brown, Phil. "Wilderness Advocate." New York State Department of Environmental Conservation. Conservationist Magazine. 2007. Web. 11 Apr. 2015
Terrie, Phillip J. Contested Terrain: A New History of Nature and People in the Adirondacks. New York: Syracuse University Press and the Adirondack Museum, 1997. Print.
The Adirondack Forty-Sixers. ADK 46ers. N.p. n.d. Web. 22 Jan 2015.
The Adirondack Forty-Sixers. Heaven Up-h'isted-ness!: The History of the Adirondack Forty-Sixers and the High Peaks of the Adirondacks. Adirondack Forty-Sixers, Inc. 2011. Print.
USFS. "Bob Marshall." US Forest Service Northern Region. Forest Service Centennial. 13 July 2005. Web. 11 Apr. 2015.