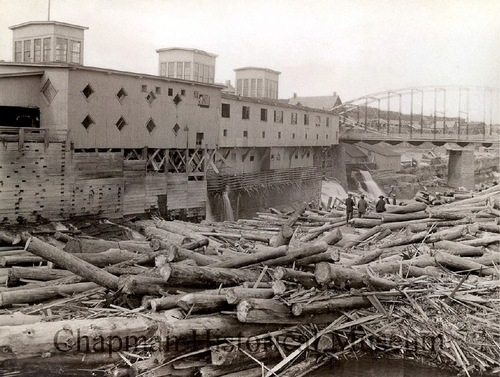 Log Jam near Finch, Pruyn & Company
photo: the adirondack museum
In one of Stoddard's editions of Stoddard's Northern Monthly, the artist provides us with a number of statistics regarding the logging situation in the Adirondacks in 1906. He claims that this year the logging industry produced more lumber than ever before, including approximately 40 billion feet of lumber. The above photo shows a log jam, which occurred frequently during the technique of sending timber down a river towards the mills at which it would be processed and proved to be dangerous, or even fatal, to those lumbermen who needed to find the source of the jam and remedy it. These jams were not just dangerous to the humans who initially created them, however; they were also detrimental to the surrounding environment because they caused erosion and other disruptions to the natural habitat.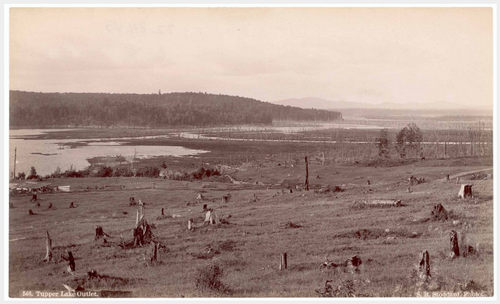 Tupper Lake Outlet
Photo: new york state museum
This photograph of Stoddard's, Tupper Lake Outlet, provides an example of the barren lands that were left behind as a result of the incessant logging during this time. As mentioned above, Stoddard refers to the danger of this kind of clear-cutting in his edition of Stoddard's Northern Monthly from Aprill, 1908. He describes how the sun dries out a patch of untimbered land more quickly than it does a timbered one. The dryness of the underlying vegetation can then lead to more frequent fires, only reinforcing the logging that has already been done. Furthermore, while reforestation would provide tree cover to repair the damages ecosystem, Stoddard believes that it will take thousands of years before the new growth forests will return back to their quazi-original state.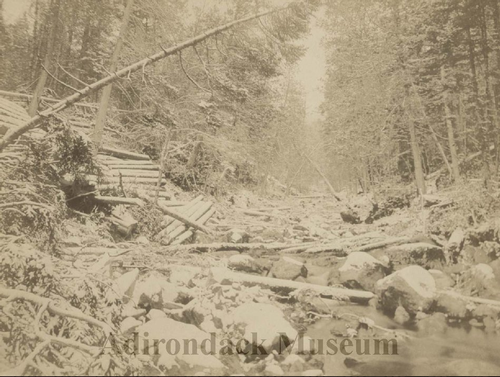 Lumbering Logs by an Adirondack Stream
Photo: the adirondack museum
The above photograph serves as an example of Seneca Ray Stoddard's tendency to contrast wilderness with industry. We see what would be a beautiful, almost romantic woodland scene was it not tainted by bending and lumbered trees. As discussed further HERE, Stoddard often spoke of his fondness for nature in his writing, and documented it through his photography. In many of his photographs, he used this love of the land and his romantic photography abilities in order to create a stark and disturbing contrast, highlighting the ways in which industry ruins the landscape.