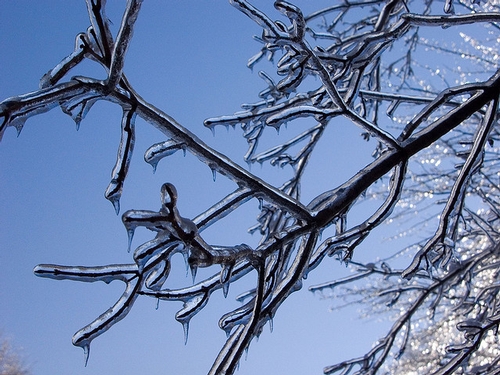 Environmental Impact
The Environmental impact of both resort-style and backcountry skiing is largely sustainable in the Adirondack Park and minimized under government management. Both Gore and Whiteface Mountain draw skiiers to a common location which can be managed and maintained by professionals; this consolidates the environmental impact of tourists into a regulated area. With government influence, particularly regarding audit charges against the ORDA which manages Gore and Whiteface Mountains (see Resort Skiing), Adirondack ski resorts have pledged to become more energy efficient in the coming years. In their website, Whiteface has boasted the addition of 100 new low energy snow guns as well as several larger energy efficient boom fan snow guns. These snow guns claim to produce more snow with less water used by using ceramic inserts in each tube that spreads the water more thinly, while producing the same amount of snow.
Resory skiing has also been found, in many cases, to minimally impact mountain species. Studies by environmentalists Michale Glenon and Leslie Carasin entitled Use of Whiteface Mountain by Bicknell's Thrush and other Montane Forest Birds, found that the creation of resort trails do not have a significant impact on neighboring bird populations. Using standard point count methods to monitor Bicknell's thrush as well as 4 other high elevation birds, Glenon and Carasin found what they claim as, "no significant differences in the species richness, diversity, or evenness of Mt. Birdwatch species, or in the total number of Bicknell's thrush detected among existing ski trails, existing glades, proposed ski trails, proposed glades, and control areas." (Glenon and Carasin, 2006) This study suggests that ski trails often have minimal impact on the ecosystems of animals living on the mountain. Overall, resort skiing provides a well-managed and sustainable area for skiiers to utilize Adirondack land.
Backcountry skiing will also strive for a low environmental impact if it is sanctioned by the State Land Master Plan (SLMP). Seeking an amendment allowing backcountry trails, enthusiasts have pledged to cut no trees in the creation of new trails. Areas used in backcountry skiing would be established within naturally occurring openings and only under mature canopys that can sustain it. (Farbeniec, 2014) If backcountry skiing is adopted by the SLMP, minimal maintenance will be required in the trails' upkeep and the environmental impact will be low. Backcountry trails wil not differ significantly from existing hiking trails, which have already proved to present little threat to the existing ecosystem if used in moderation and within the guidelines of the SLMP.