Though backcountry skiing is not technically recognized by the state as an appropriate recreation on Forever Wild land, avid skier will tell you its completely legal, and a big deal. The story of Adirondack backcountry is not as glamorous or powder-filled as in the rock mountain giants of the west, but the tradition is just as strong and intense. The Ski-to-Die Club, one of the most infamous bands of backcountry skiers in the park, was founded in the 1970s by Geoff "Smitty" Smith, and pioneered many of the well known trails (and those which remain veiled from common view) in the park (Goodman, 1997). In Smitty's day, backcountry skiing had lost its early popularity, and winter visitors to the park were flocking to other attractions. They endured the rugged ascents required to find their own chutes and lines, and maintained a faith in old styles of both gear and skiing. While the private group does not extend their passion to the general public, or directly attract outsiders to the mountains, but their legend is well know and the mystery and boldness surrounding their existence have their own draw.
Backcountry skiing has regained much of its lost popularity and former Ski-to-Die member Ron Konowitz is leading a fight to codify the right of the state to maintain ski-specific trails through wilderness and wild forest areas, as they do for hikers and snowshoers (Farbaniec, 2014). Such an adjustment would put backcountry skiing under the control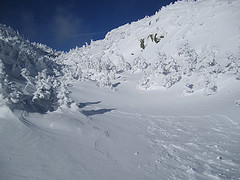 of the government. Just as hiking trails are maintained and held to certain standards, ski trails would similarly grow in number but in a controlled manner. Forever Wild law would still limit the impact of backcountry skiing, and the DEC could foreseeably adjust their regulations accordingly, improving accessibility to terrain, but preserving the authenticity of a backcountry experience.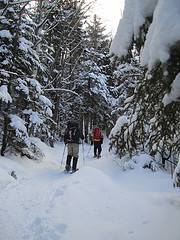 While environmentally, backcountry skiing may not have the same impact as resort skiing (see Environmental Impact), it also cannot match the economic fortitude of its more mechanized equivalent. Backcountry skiers (typically) do not pay for lodging, food, or attractions, just as hikers are out-spent by summer attractions. While the Whiteface base area has hotels and restaurants, museums and summer rides, the Marcy trailhead has only a parking lot and a bathroom. So, while backcountry skiing would not provide the state with consistent income, it still remains a relatively innocent activity and an attraction which can draw people to the park without jeopardizing large swaths of forest.