The Remsen-Lake Placid Corridor (overview)
The Remsen-Lake Placid railroad is classified as a travel corridor. According to the Adirondack Park State Land Master Plan, "A travel corridor is that strip of land constituting the roadbed and right-of-way for state and interstate highways in the Adirondack Park, the Remsen to Lake Placid railroad right of way, and those state lands immediately adjacent to and visible from these facilities." This classification has implications in determining the appropriate future use of the Remsen-Lake Placid Corridor. Multiple agencies have some level of jurisdiction over travel corridors, but the main agencies concerned in the Remsen-Lake Placid Corridor are the Department of Transportation and the Department of Environmental Conservation. In the Park, there are about 1,220 miles of designated travel corridor, and the Remsen-Lake Placid railroad only constitutes 122 of these miles.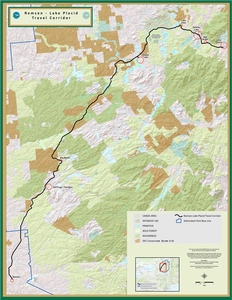 While the Corridor is not fully within the bounds of the blue line, from Remsen to Lake Placid the Corridor is owned by the State and the whole Corridor is governed by the same unit management plan. The Corridor has never been abandoned as a railroad (UMP 101), and still has tracks in varying condition along its full length. Finally, though the right-of-way is generally 100 ft wide, the rail bed is typically only 9 ft - 12 ft wide, though it is 15 ft - 20 ft wide in some areas (CA Report* 6). Often the surrounding area had to be filled or steep terrain excavated to allow for the Corridor to maintain a reasonable grade for a railroad, so it may be difficult in some cases to take advantage of more of the right of way than is already available (CA Report 4).
* See "Economics" for link to this report
This map is from the New York DEC"s website. It shows the Remsen-Lake Placid Travel Corridor and the different land zones in the area surrounding the Corridor. (Image is a link.)