Amelia Denney '17 and Phoebe Greenwald '16 are students at Hamilton College in Clinton, NY. The two have much in common, including two sets of X chromosomes, two heads of curly hair, and a mutual love for soccer and chemistry.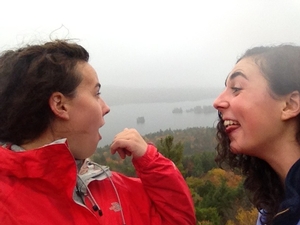 Amelia Denney is a double major in neuroscience and Hispanic studies at Hamilton. Her other interests include environmental science, especially in the context of the Adirondack Park. Amelia hails from Waterville, Maine.
Although an English major, Phoebe Greenwald has an unbridled love for chemistry. Originally from Seattle, Washington, Phoebe knew very little about the Adirondack Park until she read Phil Terrie's "Contested Terrain" and Paul Schneider's "The Adirondacks." She has since come to realize that the Adirondack Park is a unique space, and hopes that people will take measures to preserve it. When she isn't frolicking on a soccer field, studying for chemistry, or reading authors like Bill McKibben, she can be found writing short (and long) stories.