Origin and Characteristics
While the name corresponds to the Queen of England of the early 18th century, the Queen Anne style actually reflects the styles of both the 12th and 16th centuries (nps.gov). It draws from Tudor, pre-Georgian, and late medieval styles. Similar styles include the Stick and Shingle Style, both of which preceded and led into the Queen Anne style. This style was particularly influential in the Adirondacks between 1875 and 1900 (architecturestyles.org).
The Queen Anne style embraces the eclectic, as it welcomes irregularities in almost all aspects of its design. The floor plans are generally asymmetric, which is made evident by some of the exterior. Sections of the roof are often steeply pitched and tend to incorporate towers. It is typical for the roofs and siding to be decorated with various patterns of fish scale shingling. The porch, decorated with ornamented spindles, commonly wraps around the house. Other distinctive features include double-hung or stained glass windows and prominent, forward facing gables (antiquehomes.org). The Queen Anne style is typified by these features, but by no means limited by them. Intricate decorations and nuances are certainly welcome.
_______________________________________________________________________________________________________
Cure Cottages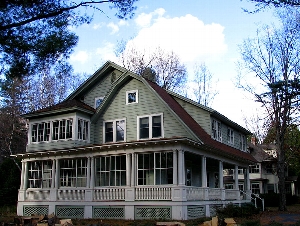 The appearance of these cottages coincided with rise of the Queen Anne style as a significant architectural influence. Cure cottages sprang up in places like Saranac Lake in the mid-1880s to help tuberculosis patients recover. The Queen Anne style was particularly relevant to cure cottages, because of the porch, a prime location for fresh-air treatment. The standard porch evolved into the cure porch, a walled porch with large windows and/or sliding doors to allow for plenty of light, a view, and air circulation (Gallos 7). The cure porch, reminiscent of a press box at a football game, evolved into a variety of forms. Initially a standard porch with added walls, it developed into a room situated on the second floor above the veranda. The cure porch was either built onto existing structures or immediately included in the new ones. Visually the difference was often quite subtle. It was, however, easier to build cure porches in rather than add them, so buildings with multiple cure porches were often planned (Gallos 10, 11).
_______________________________________________________________________________________________________
Prospect House, Blue Mountain Lake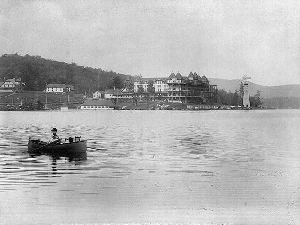 The Prospect House was built in 1879 on Prospect Point. Originally built for approximately 30 people, it was expanded to hold up to 350 guests. This made it one of the largest hotels in the Adirondacks. While many hotels drew from various styles, the Prospect House was primarily Queen Anne in style. The roof was pitched, with towers set on the corners. It also included pyramidal sections and chimneys throughout. Projecting end gables and shingled walls further pointed to the Queen Anne style as the primary influence. The porches on each of the three floors only added to this (Tolles 77-78).
_______________________________________________________________________________________________________
Sources:
Architecture, Landscape, and Urban Design,. 'Queen Anne'. N.p., 2011. Tues. 24 Feb. 2015.
Gallos, Philip L. Cure Cottages Of Saranac Lake. Saranac Lake, N.Y.: Historic Saranac Lake, 1985. Print.
Nps.gov,. 'Queen Anne Style - Golden Gate National Recreation Area (U.S. National Park Service)'. N.p., 2015. Tues. 24 Feb. 2015.
Tolles, Bryant Franklin. Resort Hotels Of The Adirondacks. Hanover, NH: University Press of New England, 2003. Print.
"Understanding Architectural Styles -." Adirondack Architectural Heritage. N.p., n.d. Web. 06 Apr. 2015.
_______________________________________________________________________________________________________
Image Sources:
Park Ave Cure Cottage: Uploaded by Mwanner, http://commons.wikimedia.org/wiki/File:Park_Ave_Cure_Cottage.jpg
Prospect House: Photographed by Seneca Ray Stoddard, http://commons.wikimedia.org/wiki/File:Prospect_House,_Blue_Mountain_Lake_-_1889_-_Stoddard.jpg
_______________________________________________________________________________________________________