Graphics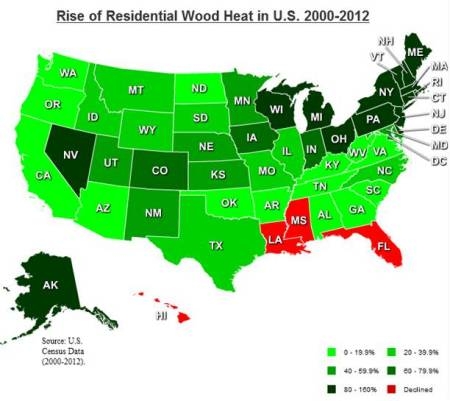 © Greenwood Clean Energy, Inc.
This map demonstrates the increasing popularity of Woodfuel in US households. New York is shaded the darkest shade of green, which represents an 80-100% increase in residental woodfuel implementation. Aside from the four states shaded red, representing a decling in the use of residental woodfuel, the rest of the country is moving in the right direction to implementing woodfuel practices.
© New York State Energy Research and Development Authority
This chart demonstrates the increasing populatirty of woodfuel, specifically in institutional buildings, in the Adirondacks. As you can see, woodfuel is widely used as a heating source for many of these facilities. Its popularity both in the park and in the United States indicates that it is an up and coming technology as an alternative energy source.