Saranac Lake Central School
In 2011, the Saranac Lake Central School in Saranac Lake, New York installed a biomass boiler heating system that relies solely on wood. As the school is a 132,000-square-foot, three-story building, the implementation of this new heating system has saved the school an average of $13,000 each month. Although the initial installation cost of this system cost around $513,000, the New York State Energy and Research Development Authority (NYSERDA) provided the school with a $410,000 grant to offset that cost, with $102,000 match required. While the New York State Education Aid supplied half of the match,tax payers were required to supply the remaining $46,000. Before the installation, the Saranac Lake Central School burned 8,002 gallons of fuel annually, costing them about $25,000. However, since the installation, in 2012, the school burned 1,500 gallons of fuel annually, costing them only $5,000. If you add the $6,400 the school paid for wood pellets, the biomass boiler heating system saved the school more than $13,000 in the month of December alone.
Dave Dungate, President of Advanced Climate Technologies Bioenergy of Schenectady and the individual who installed the equipment at Saranac Lake Central School, attributed the success of the biomass energy industry in the Adirondack region to the abundance of wood in the region. As the School currently purchases wood pellets in bulk from a biomass distributor in Massena, NY, Dungate has discovered that wood-heating prices are much more stable and half the cost of oil. Just one ton of wood fuel replaces 115 gallons of heating oil. In the Adirondacks alone, there are about a million tons of wood residues that are not recovered, which is enough to wood to heat about 3,000 to 4,000 additional schools.
Although the Saranac Lake Central School remains exemplary in its use of woodfuel, currently in Saranac Lake, NY, oil remains the most commonly used heating fuel, implemented in 63% of all buildings. After oil, electricity, gas, and wood follow as the most commonly used heating fuels, implemented in 14%, 10%, and 6% of all buildings, respectively. Nevertheless, this small-scale example of the use of wood fuel may become inspiration to similar sized schools in the Adirondacks, and even to other buildings in local villages like Saranac Lake.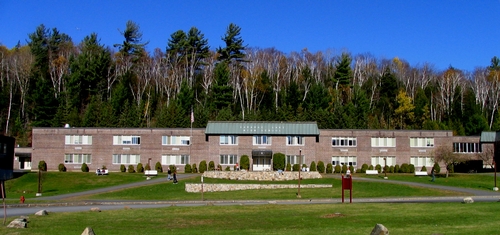 © Wikipedia Creative Commons
Body Text Source: Dedam, Kim S. "Wood Boiler Cuts School Costs." Press-Republican. N.p., 19 Feb. 2013. Web. 08 Dec. 2014.
Adirondack Wild Center
The Wild Center, located in Tupper Lake, NY has consistently prided itself in demonstrating its commitment to sustainable practices by making components of the building part of the exhibition. Most recently, a new heating system, fueled by wood and part of the "New Path" exhibition, explores and tests the woodfuel technology that could potentially decreases our dependence on fossil fuels. Initiated in July 2009, this undertaking combines a highly efficient wood pellet boiler with a solar hot water system that has the ability to supply much of the hot water required to heat the 54,000-square-foot facility in Tupper Lake. The boiler resides in The Wild Center's basement, with the wood pellets stored in an outdoor recycled shipping container next to the Administration wing of the Museum. This project remains so exemplary that it recently received an award from the New York Solar Energy Industries Association recognizing it as one the "best and brightest solar projects and industry champions in the Empire State." That is, this new boiler system is the first highly efficient, commercial-sized, gasification wood-pellet boiler of its kind and size manufactured and installed entirely in New York State.
Although the new boiler initially cost the Wild Center around $1.7 million, the project is supported by a $350,000 contract award by NYSERDA. Francis J. Murray, Jr., NYSERDA President and CEO, noted NYSERDA's interest in this demonstration installation: "We commend The Wild Center for its commitment to incorporating renewable energy into its operations. Their use of pioneering made-in-New York technology will help promote high-efficiency, renewable-fuel boilers that reduce harmful emissions, burn local fuel, and further New York's efforts to reduce our dependence on fossil fuels, while helping to build New York's clean energy economy. We look forward to the installation's benefits, savings and economic efficiency."
The successful installation and usage of the boiler system will not only benefit the Adirondack ecosystem, but it also has the potential for a positive economic impact on the Adirondacks. By harvesting the "waste" in logging and sawmill operations to create wood pellets and then selling that back to local institutions, the money that is currently sent abroad for the purchase of fossil fuels is kept in the Adirondacks where it can potentially lead to job creation. Ultimately, the Wild Center hopes that this project will educate the public on fossil fuel alternatives by replacing imported fossil fuels with locally available renewable fuels. The Wild Center also hopes to serve as a model for other small-scale buildings, who may potentially implement the use of wood fuel.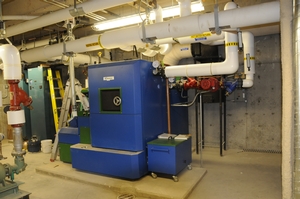 © Flickr Creative Commons © Flickr Creative Commons
Body Text Source: Dungate, David. "Commercial-Scale Biomass Boilers Market Growing in the Northeast." Northeast Sun: Magazine of the Northeast Sustainable Energy Association Nov. 2010: 35-39. Web. 8 Dec. 2014.
Body Text Source: Legat, Tracey A. "The Wild Center Pioneers Renewable Heating System." (n.d.): n. pag. The W!ld Center. 23 July 2009. Web. 8 Dec. 2014.
Chester Municipal Center
Despite delays in funding, the Chester Municipal Center in Chestertown, NY will be converting to a biomass heating system. On November 18, 2014, officials from NYSERDA and their engineers visited the municipal center, examined the heating system, and gathered information in order to develop preliminary design criteria for a biomass heating system they would be funding. In funding this project, NYSERDA officials hope the Chester Municipal Center will serve as statewide demonstration project that will demonstrate high-efficiency biomass heating within a governmental building. In addition to NYSERDA, the town of Chester expects to receive State funding to provide about 75 percent of the total $210,000 expense.
For several years, the Chester town board has sought to convert the municipal building from fuel oil to wood pellets or chips because it's local, renewable and inexpensive. That is, the availability of wood is not subject to geopolitical upheaval as fuel oil is. Currently, the a average annual cost of heating fuel oil expenses in recent years for the municipal center has been about $40,000. In converting to the biomass heating system, the town of Chester could potentially save local taxpayers at least $18,000 annually.
Already, the town of Chester has installed solar power systems at four of its facilities including the municipal center, and the system is expected to reduce the town's carbon footprint while saving taxpayers more than $10,000 per year in electricity costs. Chester town Supervisor, Fred Monroe advocates for his high optimism. "I'm excited about this project. This project will not only create jobs in the Adirondacks, it will also save the town money." Looking forward, this project in Chester town has the potential to inspire other local towns in the Adirondacks to convert their governmental buildings to a more sustainable practice of heating.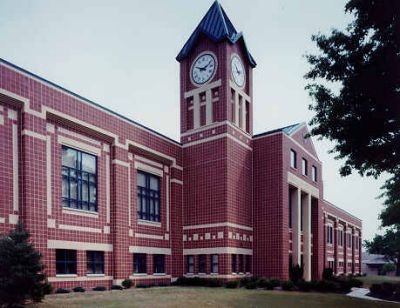 © Berks Ridge Company Enterprises, Inc.
Body Text Source: Randall, Thom. "Chester's Wood Heat Conversion May Serve as Statewide Demo Project." Adirondack Journal (2014): n. pag. Web. 8 Dec. 2014.
Individual Homes
There are several households in the Adirondacks that have personal reasons for utilizing wood fuel over oil, gas, or electricity. For Joann Sandone Reed, a communications and public relations strategist, who resides with her husband and son in Lake Placid, wood has always been an essential part of her life. In 2006, Reed began writing her Adirondack Lifestyle blog as a way to shine a spotlight on the Adirondacks. In an entry entitled "Heating with Wood – Art of Science?" she notes that she has always relied on wood as a source of energy. She notes that she has had the same wood stove since she purchased her house, mentioning that it has sentimental value.
Nevertheless, Reed mentions some of the downsides to relying on wood. For example, she often wakes up to her house feeling like a sauna because "Lake Placid's outdoor temperature range is a tough one for getting the indoor wood stove climate just right." Furthermore, collecting the wood itself is labor-intensive and her chimney is not easy to clean due to creosote accumulation. Reed notes that wood fuel is dusty and dirty, and complains that she has to run two humidifiers throughout the winter to keep her nostrils from "cracking and falling off."
Despite all the complaints, Reed's unplanned early morning sauna experience got her thinking about how she will never give up using wood for heat. Although there does not seem to be much logic or science to her position, she advocates that she would "miss smelling the wood fire and seeing the curl of the wood smoke against the Adirondack blue sky on these crisp mornings." She writes that it is simply not the same to "curl up next to the electric baseboard heater with a good book as it is snuggled in the chair next to the toasty black box." For Reed, there is definitely some science involved with wood heat, but aesthetics are the compelling factor. Reed's loyalty to using wood serves as inspiration to other Adriondackers, as she is willing to sacrifice vanity to conserve the beauty and authenticity of her surroundings.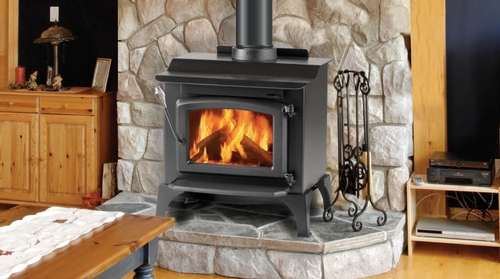 © Majesticfireplaces.com
Body Text Source: Reed, Joann S. "Heating With Wood – Art or Science?" Adirondack Lifestyle. N.p., 2 Oct. 2009. Web. 08 Dec. 2014.