Whether on some of the thousands of miles of the Adirondack Park's waterways, or paddling in one of the many flat-water races, the Adirondacks has a unique culture built around flat-water paddling. Artisan boat makers are scattered across the 3,000 lakes and ponds in the park, designing and making wooden, fiberglass, and carbon fiber boats (visitadirondacks.com). Thousands of people line lake-shores throughout the summer and well into the fall to cheer for their comrades at the helm of boats as they race through the wilderness. These races are long-held traditions in the park, and many, such as the Adirondack Canoe Classic, follow the same path early settlers took from Old Forge to Saranac Lake. The Canoe Classic in particular is 90 miles long and takes three days to complete, with carries ranging anywhere from 20 feet to a mile and a half long. Usually held in the first weeks of September, this event hosts 275 teams, with boats ranging from the traditional guideboat to eight-person war canoes to tandem kayaks (MAC's Canoes).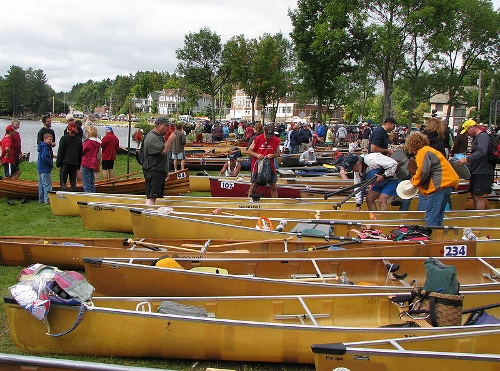 Preparing for the Adirondack Canoe Classic (Mwanner/Wikimedia)
Every year, MAC's Canoe Livery partners with the Adirondack Watershed Alliance to host the Adirondack Canoe Classic, as well as four races in the Adirondack racing circuit. Starting in mid-May, paddlers can race the 10.5 miles of the 'Round the Mountain Canoe and Kayak Race through Lower Saranac Lake, a beautiful paddle with views of the towering mountains in the High Peaks wilderness. The racing circuit also includes an event in early August that is specifically for four-person canoes, called the Hamilton County Invitational, which goes through 10 miles of Indian Lake. The season concludes with the Long Lake Long Boat Regatta, a 10-mile loop on Long Lake in late September (MAC's Canoes).
This racing circuit is particularly unique to the Adirondacks, because it incorporates paddlers of all ages, skill levels, and boat types. Mainly, these races offer a way for Adirondackers to share their passion for the water, an element of the park that has held the community together for centuries. Races such as the Adirondack Canoe Classic bring much needed tourism to rarely-visited towns in the heart of the park, such as Old Forge and Tupper Lake. This kind of communal recreation, where everyone gets to enjoy competition outdoors, is what makes the Adirondacks such a rare sight.
_______________________________________________________________________________________________________

Sources Cited:
1. "Canoeing & Kayaking." Adirondack. N.p., 2015. Web. 06 Apr. 2015.
2. "2015 Race Schedule." MAC'S Canoe Livery & Adirondack Watershed Alliance. N.p., n.d. Web. 06 Apr. 2015.
Photos Cited:
Preparing for the Adirondack Canoe Classic (Mwanner/Wikimedia) (commons.wikimedia.org/wiki/File:Kevlar_racing_canoes,_Adirondack_Canoe_Classic.jpg)