Importance of Guideboats Today
Though the purpose of guideboats has evolved over time, many still consider them the most elegant and useful boat on Adirondack waters. However, antique guideboats are rare in the Adirondacks today due to their costly maintenance and the availability of cheaper, more practical alternatives. The few personal guideboats that are owned in the Adirondacks today were likely passed down through generations of old Adirondack families. The Adirondack Museum and different private clubs own most of the Adirondack guideboat inventory. Though it is rare to see guideboats on your average outing in the Adirondacks, they are still a vibrant part of Adirondack cultural history, which is why there is still a small demand for them to be built and restored.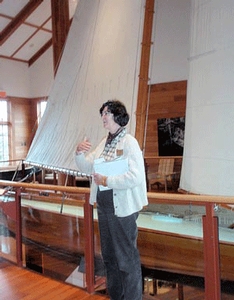 Boat races in the Adirondacks today are common events that serve to bring the water and outdoor activity enthusiasts together, with the biggest example being the 90-Mile Canoe Challenge race held in September every year. In this race the competitors paddle and carry approximately 90 miles from Old Forge, New York to Saranac Lake, New York over the course of three days. Though the main competitors in the 90-Mile Canoe Challenge are the canoers, there are many guideboats that race. There are only a few antique guideboats that participate, but many newer guideboats built from Kevlar or fiberglass. Another important boat race in the Adirondacks, The Willard J. Hanmer Memorial Race held on Lake Flower is a race that has been dominated almost entirely by guideboats since the inaugural one in 1962. This race is a more likely place to find antique and more traditional guideboats, since it has been a classic guideboat race for so long. There is a popular race, which is often won by guideboats, called the Black Bird Challenge, which is a circumnavigation of Cape Ann, Massachusetts in a day, this is a great example of the diversity of guideboat use throughout different parts of the Northeast.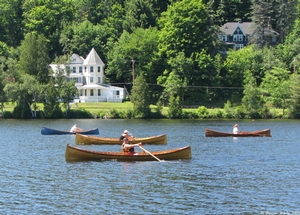 Guideboat maintenance and upkeep are extremely expensive, causing them to be too costly for most families to own, so most of the antique guideboats in the Adirondacks are owned by The Adirondack Museum and by private clubs. The Adirondack Museum always has a boat curator on staff to care for the boats and organize exhibits involving their collection. However, the greatest collection of antique guideboats is owned by the Ausable Club which is an elite Adirondack club located in Keene Valley, New York. The Ausable Club owns and maintains many antique guideboats that are over 100 years old, this effort is likely made by the Ausable Club and others because guideboats are an important cultural symbol in the Adirondacks.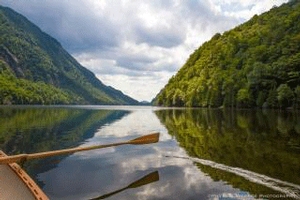 Throughout the years as the demand for guideboats and important features of a rowing boat have changed, the guideboat community in the Adirondacks has continued to be a strong albeit small group of passionate artisan craftspeople. According to Mason Smith there are approximately 6 or 7 traditional guideboat builders in the Adirondacks today, they mostly make made-to-order guideboats and for all of them restoration is the biggest part of their job. This small community shares a vast knowledge about guideboats and a passion for their work, continuing the tradition of hand crafting many small wooden boats of all different types.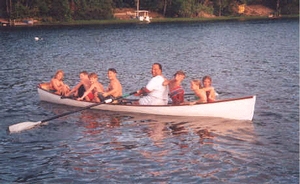 Image References
Hallie Bond: Curator of the Adirondack Museum's Antique Boat Collection (top left) courtesy of Lake George Mirror Magazine
Guideboat Racing (top left) courtesy of The Willard Hanmer Guideboat Race
Ausable Guideboat Collection (bottom right) courtesy of the Ausable Club
Family in Guideboat (bottom left) courtesy of Adirondack Rowing