Long before the invention of the gasoline engine, boats were powered by steam. There is a long tradition of steamboats in the Adirondacks that stretches back as far as 1817 and still continues today according to the Lake George Steamboat Company (Gordon 1973). The origin of the Adirondack cruise lines stemmed from the damming of the Marion River by William West Durant (Schneider, 253). The raised water levels allowed Durant to set up an almost direct route to Blue Mountain Lake where luxury hotels awaited their patrons (Crossette 1975).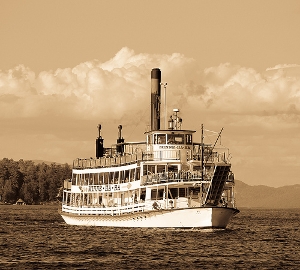 The steamboat business boomed in the early 20th century and companies like the Lake George Steamboat Company began adding new boats to their fleets. The Horicon, Sagamore, and Mohican were a new generation of steamers which were much faster than their predecessors. In 1927 the Sagamore ran aground, but was raised and refurbished a few months later. By this time interest in the steam lines had begun to disappear and the Great Depression further compounded their problems (Gordon 1973). The Sagamore was retired from service in 1933 and her sister ship the Horicon followed in 1939. The Lake George Steamboat Company was salvaged in 1947 by Wilbur E. Dow Jr., who refitted the Mohican with a diesel engine and added a former naval landing ship to the fleet which was christened the Ticonderoga (Gordon 1973).
People visiting Lake George today will still find the Mohican cruising the lake, but the Ticonderoga was retired in 1993. In 1969 the company added a replica of the steamboat known as the Minne-Ha-Ha to their fleet. Apart from the large steamboats the Adirondacks also draw a large crowd of personal sized steamboats of all eras. In June the Adirondacks host the International Steamboat Flotilla which draws boats from across the eastern seaboard and even Canada (Higgins 1995). Both sizes of steamboat provide a comfortable and fun way to get out on the water and experience the history of steamboats in the Adirondacks.
Works Cited
Crossette, George. "The Tuscarora." Adirondack Life V6 (1975): 19-23
Gordon, Robert. "Still Steaming." Adirondack Life V4 (1973): 4-8
Higgins, Jay. "All Stoked Up." Adirondack Life V26 (1995): 10-13
Schneider, Paul. The Adirondacks: A History of America's First Wilderness. New York: H. Holt, 1997. Print.