The Snobirds
Melvil Dewey once claimed that his "Club was fully established as the leading winter sports center in the United States" and many claim that before the club there was no such thing as winter sports in America (Manchester, 13). In 1921, after fifteen years of winter operation, the Club's most active winter sportsmen established a group called the Snobirds that arranged a program of events in the winter months until 1951. The groups mission as stated in a Nov. 10 1921 issue of the Lake Placid News was "…to create in this country a winter resort that can offer all the advantages of world famous winter resorts…", drawing comparisons to St. Mortiz, Switzerland, the host of the 1928 games, and Chamonix, France, the host of the 1924 games (Manchester, 14). That same year the Club built a permanent ski jumping structure at Intervale, which remains a training ground for aspiring ski jumpers to this day. Soon the Snobirds began hosting up to 80 formal college competitions per winter with trophies and prizes for the athletes. In 1922, a mere two years after the inaugural year of the Snobirds and 18 years after the Club's first winter, a Swiss newspaper called St. Moritz "the Lake Placid of Europe" (Manchester, 14).
(Ski Jumper at the Lake Placid Club, 1920)
© The Lake Placid Library
Establishing the Infrastructure and Providing Leadership
Melvil Dewey went to great lengths to promote winter sports by importing skis, building toboggan runs and constructing separate skating rinks for curling, hockey and figure skating. Despite Melvil's death in 1931, his vision continued and one of the driving factors behind Lake Placid's push for a bid in 1932 was the presence of pre-existing facilities constructed by his Club. The Club even granted an easement to the state to construct a Bobsled run on South Meadow Mountain, a site that eventually came to be named Mount Van Hoevenberg. Apart from the winter sport infrastructure they had created, the Club also provided leadership, as Godfrey became President of the III Olympic Games Committee and Harry Hicks, the secretary of the club and a mainstay of the Snobirds, served on the Board of Directors. George Martin, another member of the Lake Placid Club, was a member of the Skiing Committee for the Games (Lattimer 14).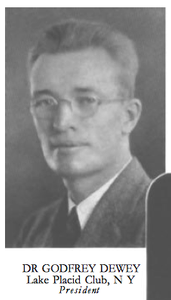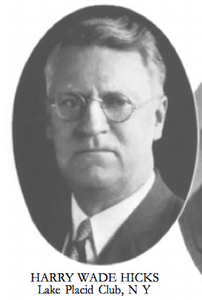 ©1998, Amateur Athletic Foundation of Los Angeles ©1998, Amateur Athletic Foundation of Los Angeles